Tungsten Tubes & Pipes
A tungsten tube, also called a tungsten pipe, is a type of cylinder-shaped tube made from the chemical element tungsten. Tungsten tubes are really strong and durable. They are used in many different industries because of their exceptional strength and durability.

AEM offers custom-made tungsten tubes and tungsten pipes for high-temperature applications. Our products are designed with precision and tailored specifications to meet your specific needs.

Standard: ASTM F288-90
Purity: W>99.95%
Density: >18.5g/cc
Hardness: >450HV
Supply state: Sintering or processing
Tungsten Tube Applications:
Tungsten tubes are used in many industries because they can handle high temperatures. Here are some examples of how they are used:
Making sapphire crystals
Melting rare earth metals
Heating elements in furnaces
Making quartz glass
Tungsten tubes are also used more and more in the LED industry.
Tungsten Tube Production Process
Isotactic pressing - Intermediate frequency sintering - Machining - Finishing.

Tungsten Tube Supplier - AEM's Advantages
Looking for a reliable supplier of tungsten tubes? Your search ends with AEM. We provide top-quality tubes customized to your needs, with strict quality control and on-time delivery.

With years of experience, we cater to diverse industry requirements. Choose AEM for quality, expertise, and reliability. Our tungsten tubes offer high purity, density, strength, and erosion resistance. The polished surface ensures a smooth, crack-free inside and outside wall.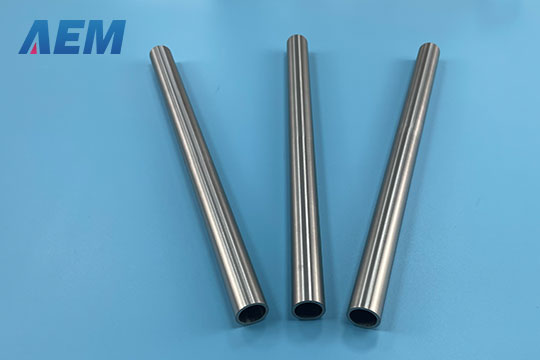 Tungsten Tube Specifications
| Diameter(mm) | Thickness (mm) | Length (mm) |
| --- | --- | --- |
| 30~100 | 8~15 | <2000 |
| 100~200 | 10~20 |   |
| 200~300 | 15~20 |   |
| 300~500 | 15~30 |   |
Tungsten Capillary Tube
Size: 3-15mm OD x 0.4-1.8mm wall thickness x 700-800mm L

Related Products of Tungsten Tube